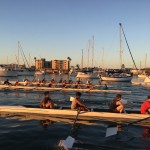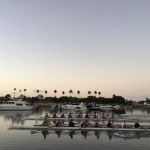 We can officially check off Week One in the books. This past week many new faces have been arriving on Shellmaker island for their first rowing experience. The athletes arrive at 5:15 am and take the water by 5:30 am. Coach Brooks has been taking three varsity eights, while Coaches Cheung and Root teach the novice oarsman the basics of rowing…we all remember those days!
As always we want to show our support to the crews! Here is your chance, UCI is hosting an inner harbor speed order featuring UCI Women, OCC Men, OCC Women, NAC Boys, and NAC Girls. Come show your support by cheering on the teams! Racing starts at 7:15 am Saturday morning in Newport Harbor.
Coach Brooks has limited space available on the launch for this event.
Contact him
if you are interested!
Go Zats!