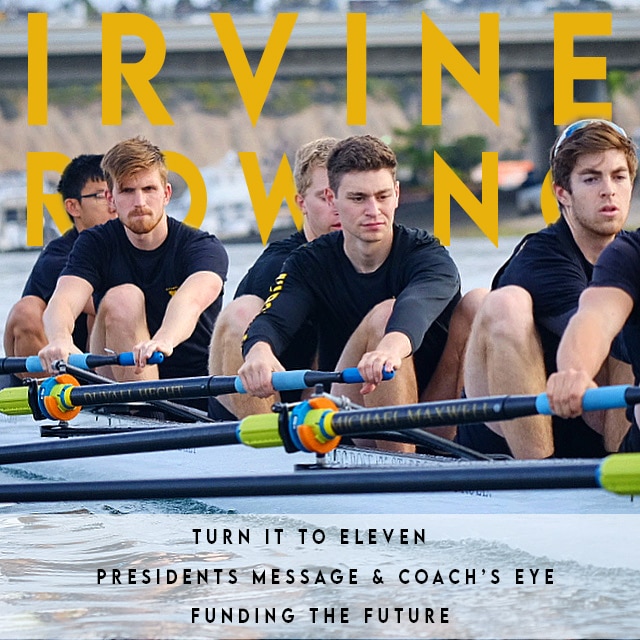 The class of 2020's slogan of "Turn it to Eleven" and "One Louder" quickly became a point of inspiration that could be heard from breaking down meetings to the roars in the boat. The idea behind these two mantras is to go beyond the perceived physical and mental limits that can confine in every rower.
With the rowing season coming to an abrupt end due to COVID-19, we have not deviated from our championship mindset. We continue to train remotely for the next season and dominate the classroom. We ended the spring season with a team GPA of 3.67 with oarsman in diverse academic fields including physics, engineering, computer science, business and the arts.
While the 2020 racing season has been canceled, the need for ongoing support of the program continues to be vital to our success. In these uncertain times where budgets are being stretched in all directions, resource support from our alumni base is a core strength to our program.
I can't say for certain when we will be back on the water but I will say this with confidence….Whenever, we get the green light, we will be ready!
ONE LOUDER – COACH BROOKS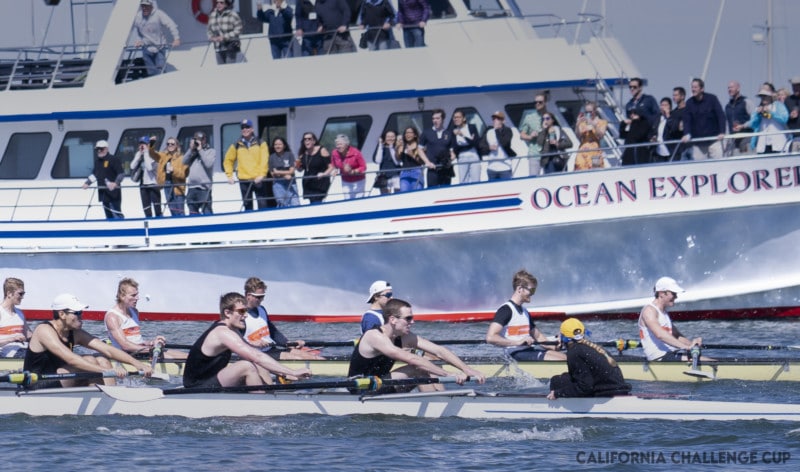 A New Jewel in Newport, The California Challenge Cup:
UC Irvine & Dr. Henry T. Nicholas III hosted the largest rowing regatta in California for 2020
Just weeks before the COVID-19 pandemic ended the entire 2020 sports and racing season for all athletes, the California Challenge Cup was hosted by UC Irvine Rowing with support from the Dr. Henry T. Nicholas III Foundation on February 29th, 2020. Hidden in a glassy channel overlooked by the Marina Park Community Center in Newport, thousands of spectators gathered on the beach, looked out the floor to ceiling windows of the community center, and cruised on the Ocean Explorer luxury yacht to watch rowing races fire-off every five minutes. It was Sunday, February 29, 2020. Leap-day.
This was the California Challenge Cup Regatta, hosted by UC Irvine, and made possible with the constant support of Dr. Henry T. Nicholas III. Designed and presented by Head Coach of the UC Irvine rowing program, Austin "AJ" Brooks, Dr. Henry T. Nicholas III welcomed the concept of a race that would allow crews multiple chances to duel it out, head-to-head, over a 1250 meter course. For the eleven Californian institutions that participated, this was an opportunity to put forward their top two eights and see the fruition of months of relentless work.
But, cycle back a year, to spring of 2019, with the original UC Challenge Cup regatta taking place. Then, with rain lashing down, storm-winds howling and fewer teams racing in single races over the traditional 2000 meters and with everyone straining to see just a part of the race course, Dr. Nick and the UCI rowing coaches and supporters began to imagine a very different race. In this race, the water would be calm, people would be able to see the event and crews – more of them from all around – would have more chances to race and test themselves early in the season. Over the course of the next twelve months, a new race was born: more crews, racing head-to-head, over multiple races, with spectators able to experience races from shore, water and screen, and with teams able to race, adjust and race again. Coaches and rowers loved the idea. We had just the place in Newport. The California Challenge Cup emerged and fans and spectators turned up aplenty…
Back to this spring, the newly formatted and expanded event was a smashing success, and all it promised to be, with Cal's A and B boat taking first and second, and almost every crew taking home a victory in their bracket.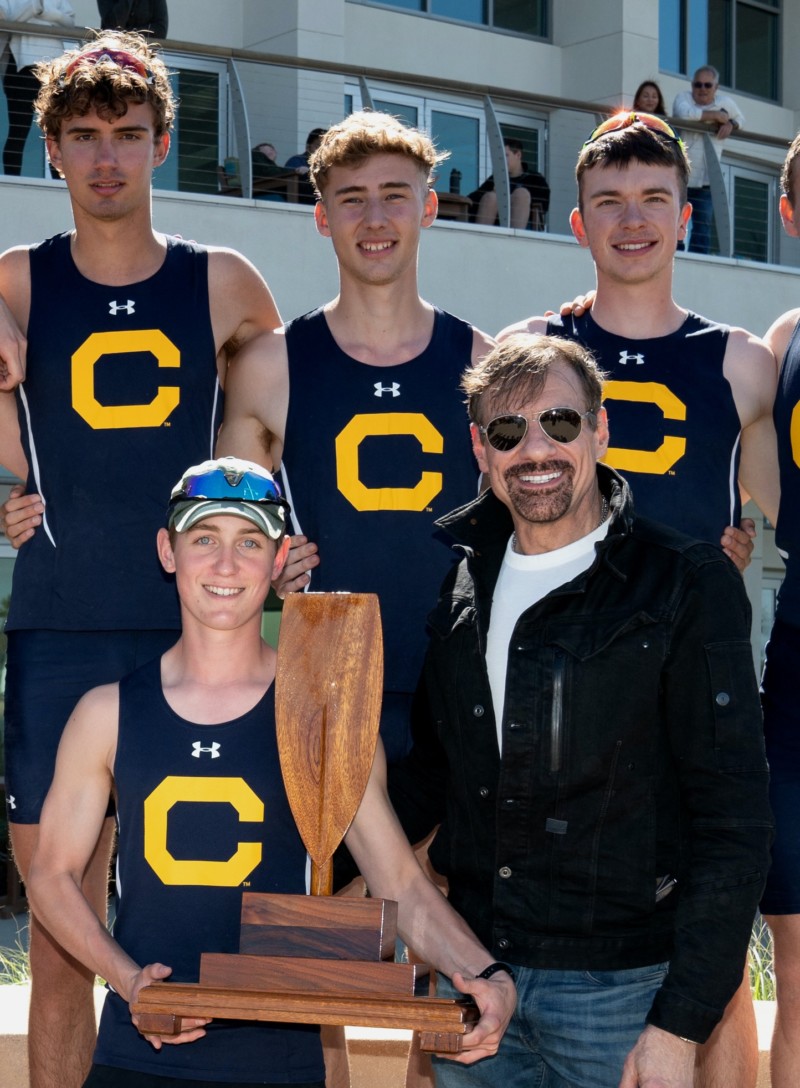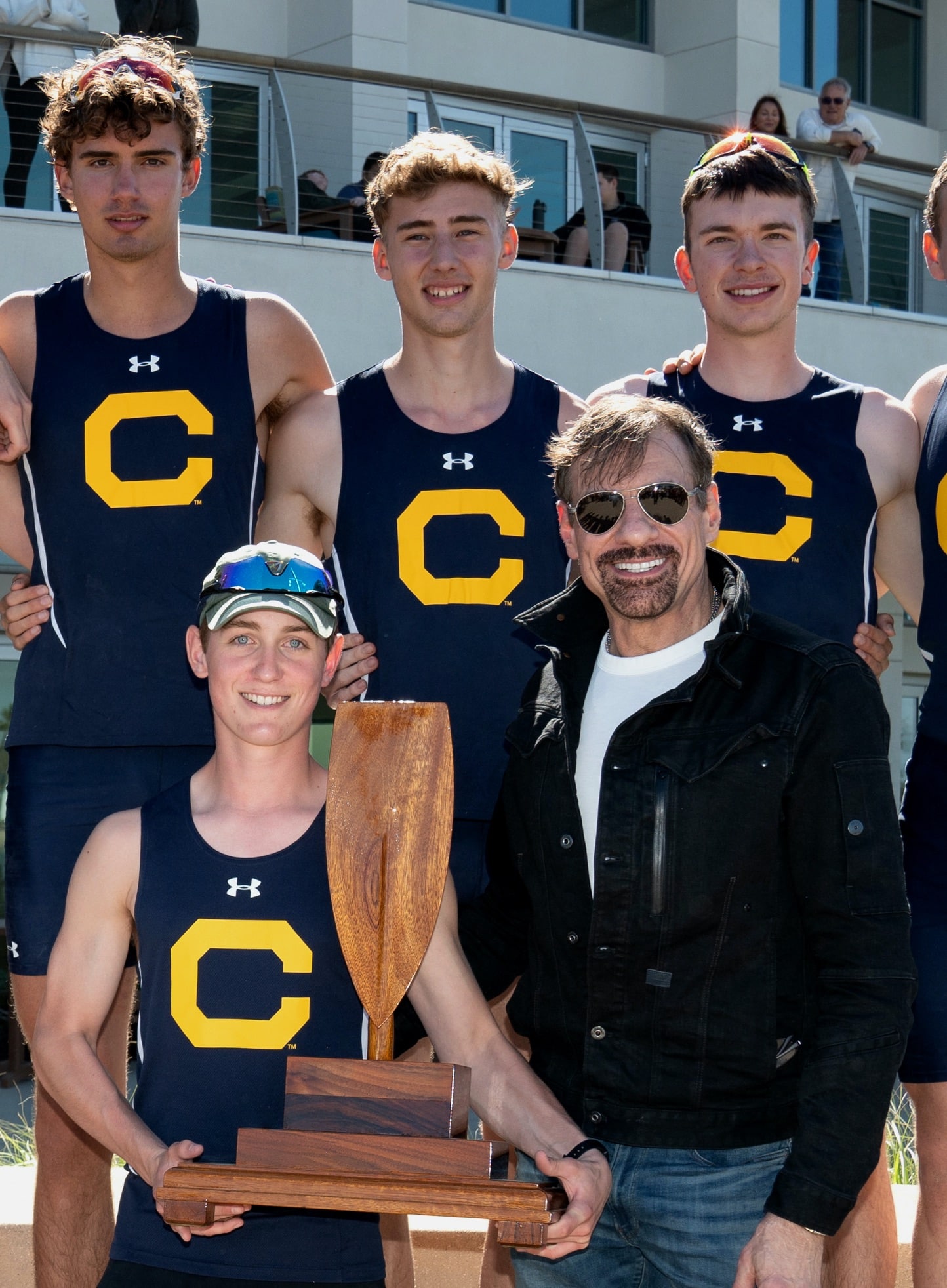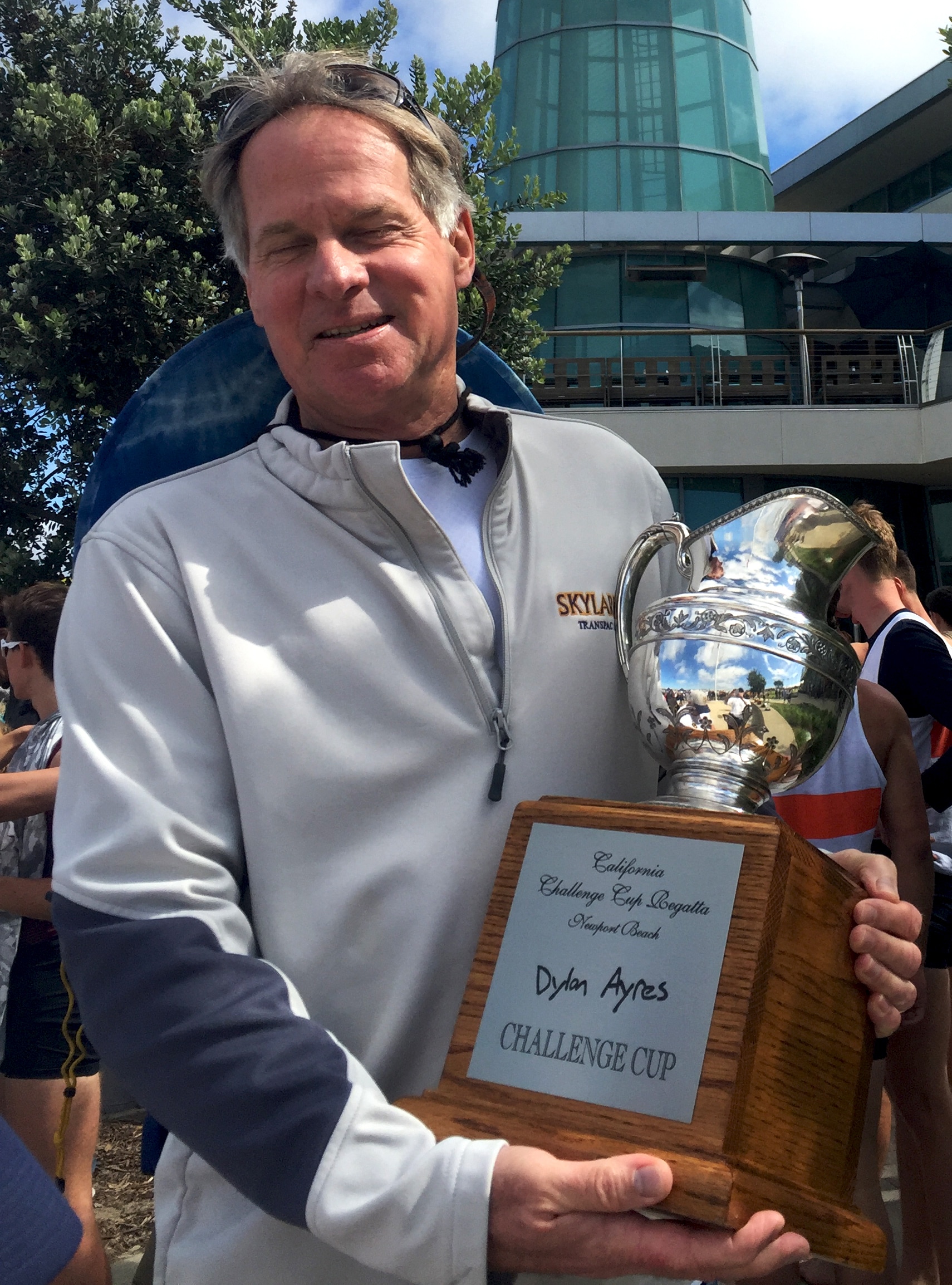 COVID-19 Changes the Game but not the Goal
What the spectators, coaches, and athletes did not know, however, was that in a few weeks, COVID-19 would put the world on lockdown, ending the 2020 spring racing season. Once the kick-off to a great season, the California Challenge Cup was transformed into the final race of the 2020 spring season for many, and for graduating seniors, the last race of their collegiate years.
For the close-knit community of rowers across California, this was an abrupt and unprecedented ending to the culmination of years of hard work geared towards regional and, ultimately, national championships. Rowers around the world were told to put down their oars, extensions of themselves that they had learned to live and breathe with.
However, much like they have pushed through day-after-day, and year-after-year of training, the senior class has kept positive in light of the situation, acknowledging the greater threat of the virus pandemic, many moving home and athletes quarantining themselves to practice social distancing.
For returning oarsmen, the perseverance of a rower never stops—all have already locked their eyes onto the next season, many bringing home ergs under the guidance of updated training schedules. Although the future is unknown, the spirit of the rower is to persevere, to strive in the face of challenges, qualities that will carry on in their lives, no matter what they do. It is devastating that the spring 2020 season has come to an end, but it is also an opportunity to be grateful for the memories created, and an opportunity to race one last time.
For seniors, it has become an opportunity to learn never to take a stroke, or anything they care about, for granted; much as the dynamics of a team change each year, every line-up, and every combination is a special and potentially fleeting thing. With the combined vision of UCI Head Coach Austin Brooks and Dr. Henry T. Nicholas III, the California Challenge Cup 2020 became both the unique environment and opportunity for oarsmen to see the fruits of their labors, race it out, and for many, find victory. And now, amid the COVID-19 pandemic, it became a last shot for the 2020 senior class to compete with their teammates.
Opportunities on the Horizon
With the successful California Challenge Cup as one example of the can-do spirit and creative vision of rowers, the abrupt end of the 2020 racing season has also created a platform for new ideas and support. University athletic governing bodies are providing athletes with another year of eligibility. As a result, many enterprising rowers and their universities are exploring ways to enable seniors to row one more year while working towards advanced degrees. Just imagine if one of the outputs from the COVID-19 pandemic is a whole new class of professionals with the perseverance, intelligence and almost absurd ability to succeed in the face of overwhelming challenges that we find in rowers. Hmmmmm, very interesting indeed, eh!
George Basile
FUCIR President
UCI Rowing '83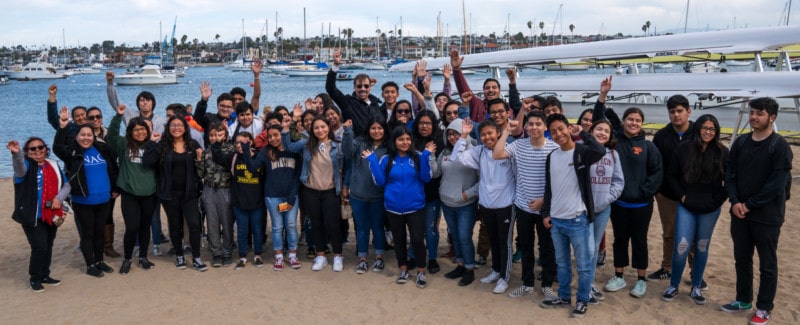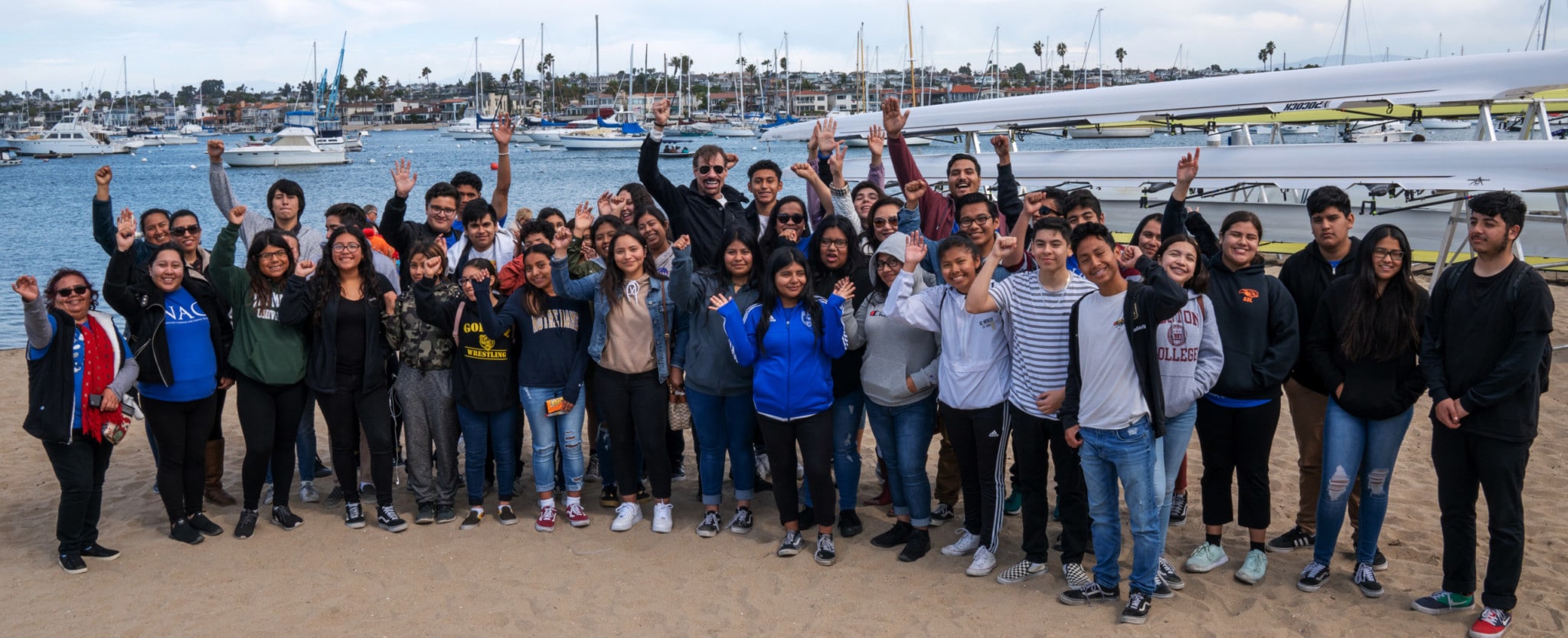 SPECIAL THANKS
Dr. Henry T. Nicholas
The Henry T. Nicholas Foundation
Nicholas Academic Center – Rosa Diaz & staff
Allegretto Hotel – Doug Ayres, Michelle Ayres
Phil Durbrow
Experian – Ty, & Caroline Taylor
Waypoint Construction – Jeff Gordon
FUCIR Board of Directors – George Basile, Mike Thompson, David Heimerl, Tom Kirksey, Brian Frank, Mike Del Castillo, Mike Maxwell, Vince Mestre, Todd Canfield, Karl Wolonsky
Newport Harbor Yacht Club – Laurel Dinwiddie, Jim Warmington Sr.
The Rowing Channel – Brandin Gram, Grant Coltrup, Patrick Verdeja
City of Newport Beach – Jennifer Shultz, Matt Dingwall
UCI Campus Recreation – Greg Rothberg, Adrienne Buckingham, Emma Kirker, Megan Guilfoyle, John Klimkiewcz
UCI Athletics – Paula Smith, Paul Hope
UCI Student Affairs – Tiana Johnson
Volunteers – Bob Newman, John Hogan, Karen Prioleau, Paul Prioleau, Will Prioleau, AC Dupont, Billy Whitford, Cameron Brown, Cole McGuire, Steve Gentz, Steve Morris & all the student volunteers
A Final Thank You to All the Visiting Universities & Coaches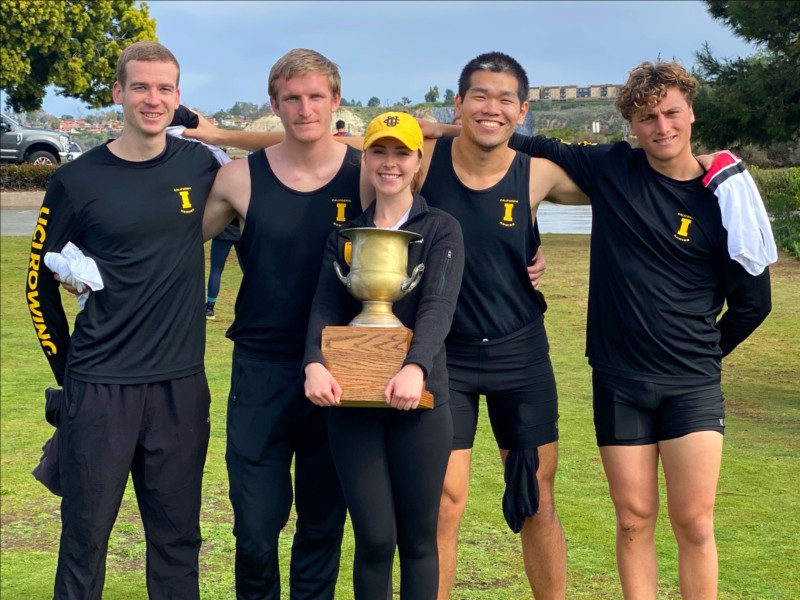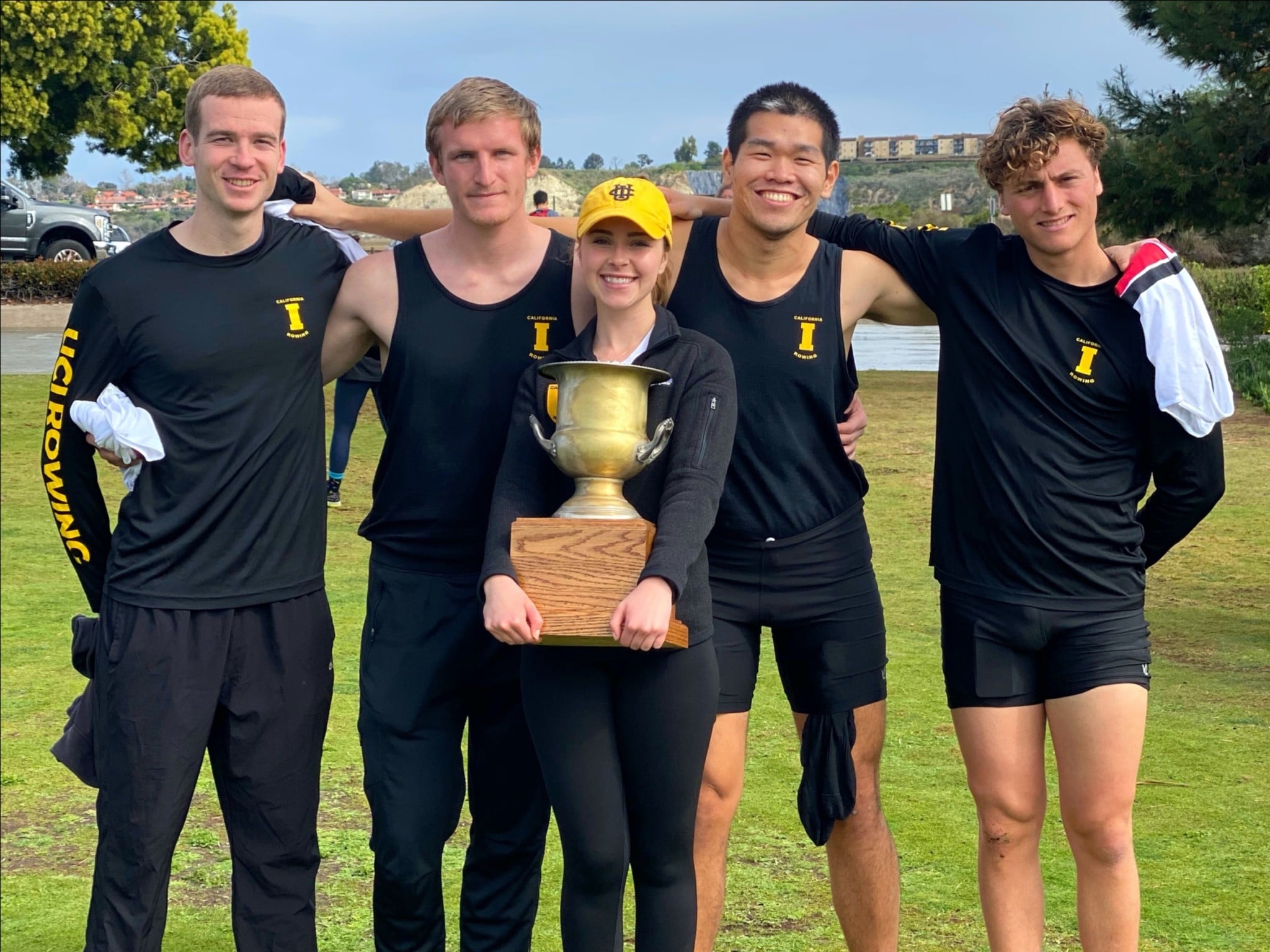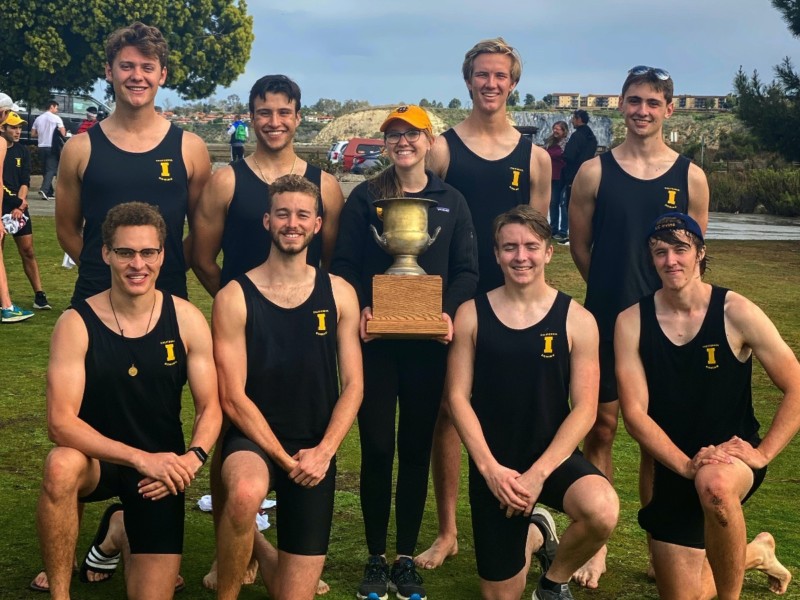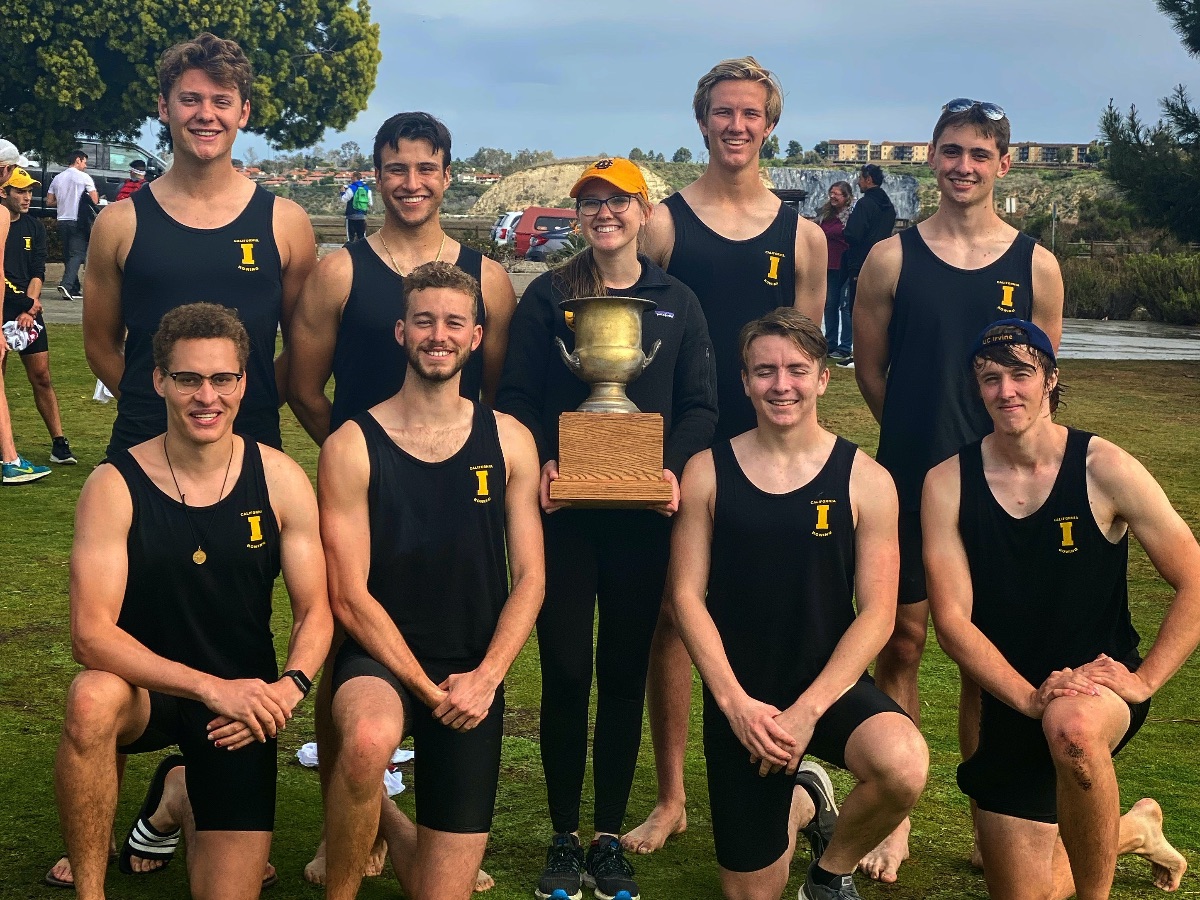 While we have a strong returning class for the 2020/2021 and plenty of time to talk about the upcoming rowing campaign, I want to take a moment to give the graduating class a round of applause. Every student-athlete in the graduating 2020 class was a walk-on oarsman who made their way to the boathouse unsure of what the future would hold. Now they leave the boathouse doors as champions, competitors, and family. The class of 2020 gave more than we can give back, their next chapter in life will be bountiful.
Race Results Spring 2020 Recap:
Parker Cup: Men's Varsity 8+ (1st), Men's 2V8+ (1st) Men's Varsity 4+ (1st) Men's Novice 8+ (1st) Men's Novice 4+ (1st)
California Challenge Cup: UCI A < CAL A, UCI B > CSLU B, UCI A > UCLA B, SCU B > UCI A "breakage" UCI A > USC A, UCI B > SDSU B, UCI B > LMU A, UCI B > LBSU B, Waypoint Construction Cup: OCC B > UCI B, Newman Challenge Cup: SCU C > UCI A
Davis Duel: Men's Varsity 8+ (1st), Men's 2V8+ (1st) Men's Novice 8+ (2nd) Men's 2N8+ (2nd)
UCLA Classic: Men's Varsity 8+ (3rd), Men's 2V8+ (1st) Men's Novice 8+ (3rd) Men's 2N8+ (3rd)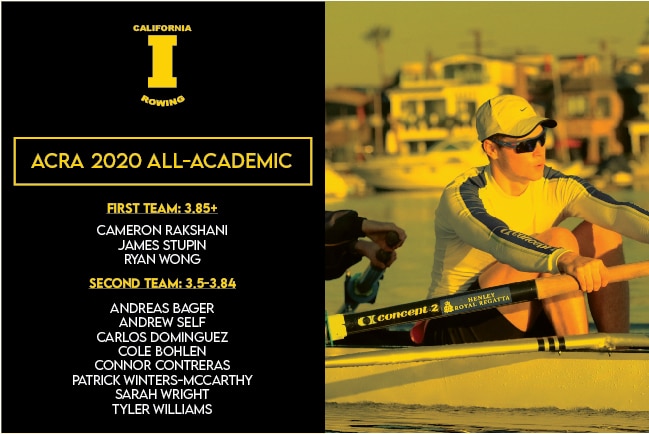 The American Collegiate Rowing Association proudly announces the First and Second All-Academic Teams. Though the 2020 regatta was cancelled and these students-athletes were unable to show the results of their training, the organization would still like to recognize their efforts in the classroom!
In order to be eligible for ACRA All-Academic status the rower must have completed at least 60 hours of college classes and be scholastically a Junior or Senior at the conclusion of the Spring 2019 semester. First Team members have a cumulative GPA of 3.85 or above. Second Team members have a cumulative GPA of 3.5-3.84. This was based off our WQ GPA's.
One year ago in Gainesville, Georgia in Dave Lebel's back yard gathered a dedicated group of UCI Rowing Alumni, and friends in support of their 2019 ACRA National Championship campaign. While reminiscing about "the good 'ole days," someone asked, "what does it cost the students to row these days?" The response was $1500.00 a year annually to cover a bulk of the operating cost & as Duvall Hecht once put it, "to have some skin in the game". This sparked the idea of once a UCI oarsman, always a UCI oarsman. Just because one graduated to start the next chapter of their life, doesn't make them any less a UCI oarsman. This dedicated group sparked TEAM 100 Rower Emeritus – an initiative with the goal of engaging 100 alumni and supporters from the past 55 years to raise $150,000.00 annually.
1970's – 12 Members
Michael Thompson '71, Vince Mestre '71, George Stone '72, Stephen Zotovich '73, Brian Atwood '74, Michael Sullivan '74, Bruce Ibbetson '75, Greg Rose '75, Rick Peterson '75, Mark Massman '76, Bill Grant '76, Jeff Brown '79.
1980's – 10 Members
Dave Lebel '81, Mark Bradburne '81, Michael Eastwood '81, Christer Fiege-Kollmann '82, George Basile '83, Peter Kobrak '84, William J. McGovern '86, Jeff Emdee '86, Alex Hubbard '87, Tom Kirksey '88.
1990's – 3 Members
Powell Thurston '90, Todd Canfield '93, Chis Romberg '99.
2000's – 2 Members
David Heimerl '01, Michael Chen '03.
2010's – 1 Member
Kyle Starr & Tiffany Cho '15.
Friends & Supporters – 0 Members
As an alumni and ex UCI oarsman, I have been committed to the continued opportunity that rowing provides to the student-athlete. I can tell you that the experience has been essential to my personal growth and achievements since graduating in 1971. As a walk-on oarsman in 1967, with no success in athletics prior to joining the team as a freshman, I had no idea what I was walking, or should I say , rowing, into. Sound familiar? Many friends were made and relationships forged that have lasted a lifetime. The personal growth gained and the confidence to aspire to higher goals as part of the whole college experience also lasts a lifetime. At this time the program is funded mainly by alumni donations, some large and some small. The amount doesn't matter. What matters is that we all remember the experience and try to make sure that the same experience remains available to prospective future student-athletes at UCI.
Michael Thompson
FUCIR Director at Large
UCI Rowing '71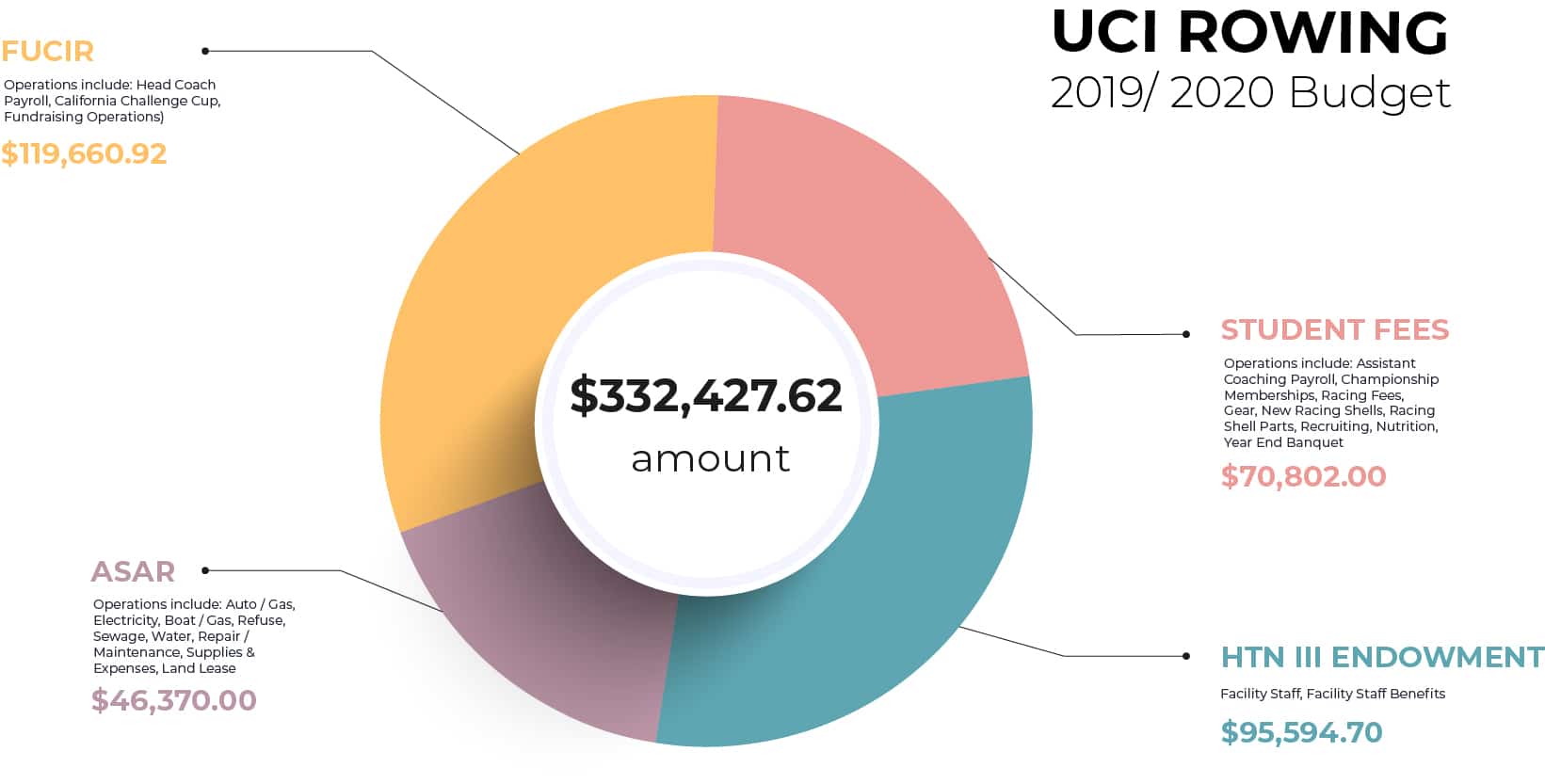 Even with a short racing season, we had a great year of fundraising as we closed out our 2019/2020 season with $119,660.92 raised from September 19 – June '20
While the FUCIR rowing annual fundraising only makes up a portion of our total operating budget, other portions include student fees, campus recreation, and endowments. (UCI Rowing 2019/2020 Operating Budget) The Friends of UCI Rowing's annual fundraising is the glue that holds the program together. In the coming weeks we will be unveiling our plan on how we will make UCI Rowing more successful in a financially sustainable operating budget. We look forward to your continued support.
Stay healthy, stay connected, our future is bright. The finish line is in sight, keep your head in the boat, stay in the rhythm, and push for each other. Our bow ball is surging ahead. We will come out of this together.