Greetings all!
We can probably agree 2020 has been an unprecedented year.  Through it all we've been working along with you to keep the UCI Crew and our rowers — women and men — active, engaged, and aimed at excellence.  While the fate of the Spring Season remains cloudy, we need to double down on our efforts to keep the program running through 2021.
What does success look like for this Fall fundraising drive?
Hit our goal of 100 members committed to Team 100.
Increase alumni participation in the team's new Leadership Academy.
Establish and support a new scholarship fund for seniors affected by COVID-19.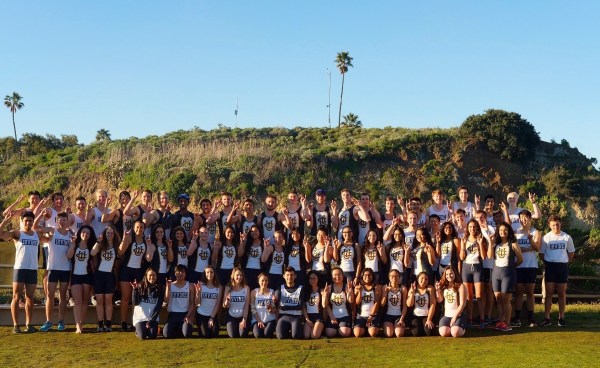 We know there is more going on in your lives than ever before and there is hardship everywhere. Now more than ever, your support will ensure the survival of UCI Crew as we all fight together through these unprecedented times!  Read on for more details on each of these initiatives.
Thank you,
Friends of UC Irvine Rowing
Get 100 Members in Team 100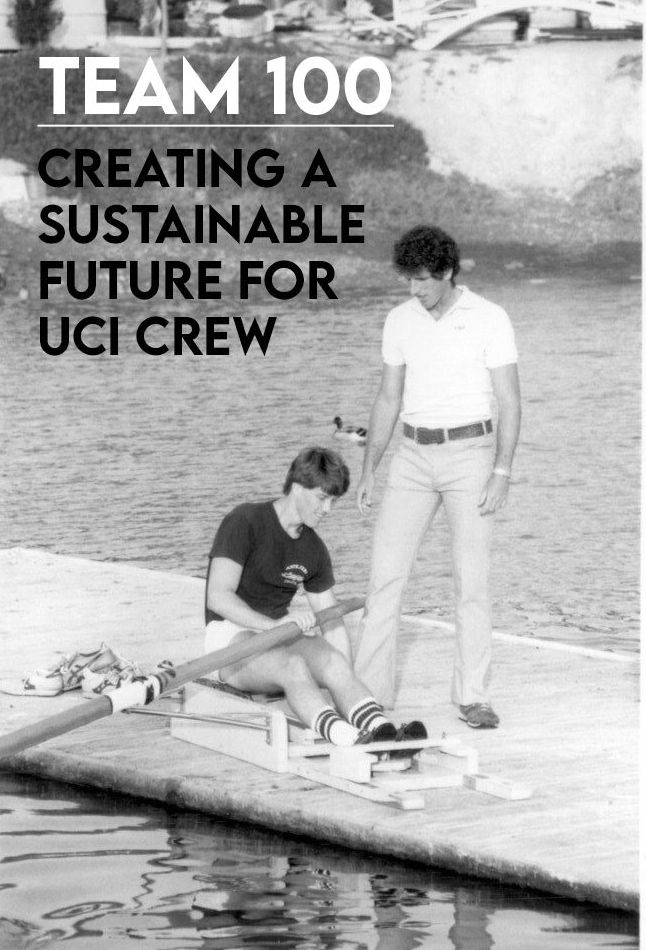 Team 100 is critical to the long-term stability of the crew by providing sustaining support for our team's exceptional coaching and personnel needs.
We are already about a third of the way to our goal, but to fully fund our annual operating costs of $150,000 we need to reach 100 members. Check out our Team 100 Honor Roll to see who's who and to join the effort!
If you are already a member, we also rely on you to get the word out to other alumni you may know who might be interested in making this commitment to the crew with you.
If you can't commit to covering a full Team 100 membership yourself, consider partnering with fellow oarsmen from your class to pledge a group commitment. Contact Treasurer David Heimerl ('01) if you'd like to set something like that up!
Increase Engagement in the Irvine Rowing Leadership Academy
If you've seen the Coach's Eye emails from Coach AJ, then you know the team has taken significant steps during the COVID-19 crisis including leading the effort at UCI to support safely resuming activities with club sports.
Our Leadership Academy supports UCI Rowing Club officers and rowers in the following ways.
Fund and expand student initiatives both within and outside of the crew.
Expand the diversity and representation within the crew.
Weekly Zoom meetings, organized by Coach Brooks, draw upon over twenty volunteer mentors from our alumni and Friends community to help explore and develop student professional endeavors.
Co-developed a plan for reopening of the boathouse as well as working directly with UCI administration on university-wide club protocols, and is exploring the future strategy for safely restarting practice and competition for the UCI Crew Programs.
COVID-19 Scholarship Fund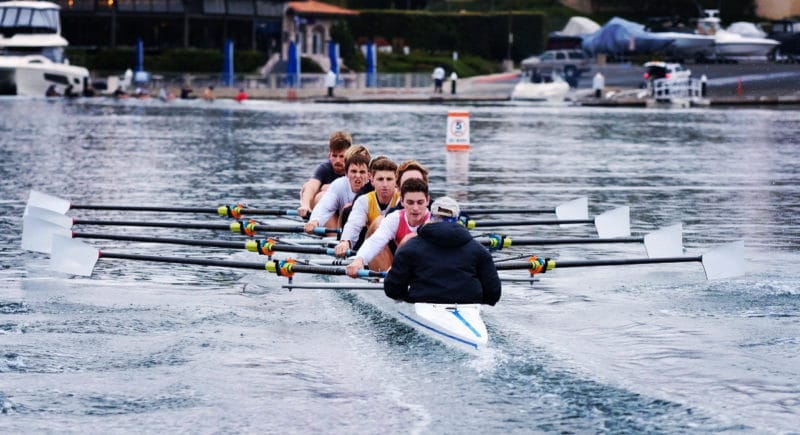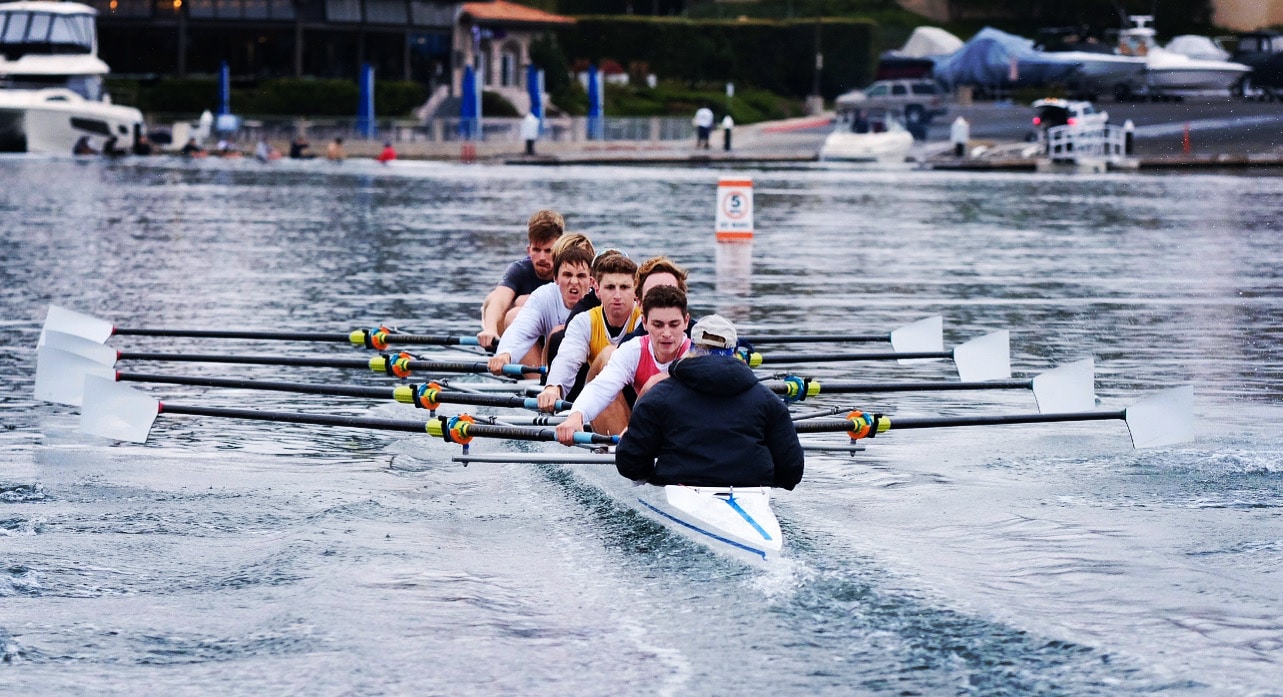 Coach's Eye – A Message from Coach Brooks
Hello everyone,
I can't believe it's mid-way through November 2020 and I'm writing to our supporters on my 30th Birthday in my 7th season with the UCI Crew. This time last year we were coming off a strong win at the Head of the Harbor and beginning to gear up for final exams. As one can imagine, this Fall Season has come with its own set of unique challenges. Through it all, our anteaters have stayed extremely resilient. But I'm not going to sugarcoat it…it's been really tough. Under University of California, Irvine COVID-19 guidelines "all clubs" have been put on hold for the Fall Quarter with no information yet regarding the fate of Winter Quarter, let alone the Spring. Our two club presidents Daliah Ordaz '21 and Tyler Williams '21 have have done a tremendous job thus far leading the team in virtual workouts and ensuring the fitness and well being of our student-athletes.
Every season comes with a new crew and a new set of challenges. Every season has a defining moment where the coaches and crew formulate a motto to rally around. Those familiar will remember the 2019/2020 crew's motto was "one louder." The implication being about breaking new boundaries and pushing beyond one's own limits.
This year's motto has now been established. Through all the uncertainty regarding the potential Spring Season, and the associated unknowns (how to train, race, and plan), we have chosen the motto "ALL OFFENSE." Rowing in its core is all offensive when you line up in a six lane course. The only thing you can control is your crew's production in the way you prepare, the way you execute, and the way you finish. Worrying about another crew, or trying to find weaknesses in their armor, is frivolous for a fully offensive crew. This group has never taken their foot off the gas pedal and they are going to stay offensive as a unit for the hope of a spring racing season.
Through COVID-19 we have had some changes in the coaching staff. With the departure of our women's coach, I will coach both Men's and Women's programs with 67 student-athletes combined.
Exceptional Assistant Coach Cole McGuire ('18) has accepted a role as a Civil Engineer in Tacoma WA and is unfortunately stepping away from the role this season. He was a four-year walk-on oarsman, two-time captain, WIRA & ACRA Champion, and has served as the novice & assistant coach over the past two seasons. Cole will be extremely missed but will continue to support the crew in anyway he can from a distance.
Through uncertain times, however, Irvine always seems to strike gold! I am excited to announce that we have been fortunate to add Mike Sullivan ('74) to the service of the team. He brings a wealth of knowledge and history back to the program. With the closure of Shellmaker Island, Coach Sullivan has been hosting volunteer sculling sessions with Irvine oarsman with his personal fleet of single sculls.
Naturally, in troubled times, we need to raise funds for the security of the crew through the action items listed above. And since today is my 30th Birthday, using this platform and my personal rowing network, I would like to give our Scholarship Fund a jumpstart. Rowing has shaped me into the person I am today, no doubt. I cannot begin to imagine training my tail off and having had my senior season taken away from me. Can you reflect back and think of yourself in a situation like that? You would be devastated. Incredibly, a pair of last year's seniors decided they weren't done yet and found a way to extend their collegiate rowing careers. They were both accepted to masters programs at UCI and therefore, with a year left of eligibility, they can continue this year to pursue a national title. This extension of academics came abruptly with added personal costs. To help make an instant impact I ask you to contribute to this fund, with no gift being too small! My goal is to get at least 100 gifts by the end of day today. To contribute to this timely scholarship fund please click the link below.
ALL OFFENSE 2021 – LETS GO! YAHOO!
Coach Brooks