Attention Alumni & Friends,
We have two new events coming to get the 2017/18 season started on the right (starboard?) oar, and we also have a time-sensitive opportunity to acquire a new boat. Read on for more details!
New Boat Challenge
After a successful performance at ACRA in June (6th of 38 in the Men's Varsity 8+ event), the crew is poised for even more success on the National level this season. But their main racing shell has aged out and it is time for an upgrade. It is the mission of the Friends of UCI Rowing to ensure that UCI's oarsmen have the necessary equipment to compete against the best.
Noted benefactor Budge Collins has agreed to "match" any donations for a new shell up to $10,000. To get the ball rolling, Bruce Ibbetson ('75) has already graciously contributed $2,000 and Duvall Hecht has thrown in an additional $1,000. It's a great start, but we need to raise $7,000 more by October 1st to take advantage of this opportunity and secure a new boat for the crew.
For those who donate $1,000 or more, we are also offering to have your name engraved in a seat for posterior-posterity! Two seats are already reserved for Bruce and Duvall, but group donations ("class of…") are also eligible for this honor (please notify David Heimerl if you wish to coordinate a group donation for this challenge).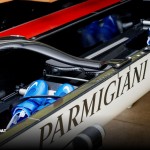 Saturday, September 30th
9 am – 11 am
UCI Boathouse
We would like you to join us for some fun at the boathouse. On Saturday, September 30th Coach AJ Brooks and the crew will be holding a "learn to row" event for all the new novice oarsman. Coach AJ has asked us to help his recruiting efforts by coming down to the boathouse to share our stories and provide mentorship to the new generation of Anteater Oarsman. This event will be held at the boathouse (300 Shellmaker Road, Newport Beach, CA, 92660) from 9:00 am – 11:00 am.
Saturday, September 30th
6 pm – 8 pm
Back Bay Bistro
In the evening of September 30th, your fellow alumni will be enjoying drinks and appetizers at Back Bay Bistro (1131 Back Bay Drive, Newport Beach, CA, 92660) from 6-8 pm. The purpose of this event is to meet the varsity oarsman in a quiet setting to discuss career opportunities or internships as they prepare to graduate and enter the dreaded "real world." This event is free of charge. All we ask is for you to come and reminisce about the good old times!
Friends of UCI Rowing is a 501(c)(3) charitable organization supporting Men's Rowing at UC Irvine. Your donation is fully tax-deductible and is 100% directed to supporting rowing operations at UCI, covering the coach's salary, equipment purchases, and maintenance.