By Bill Butler on September 4, 2008 – 9:58 am.
When Duvall Hecht was asked to the podium to receive his 2002 induction to the UCI Athletic Hall of Fame, the 150+ rowers past and present in the audience rose to their feet in a sustained, standing ovation. They were honoring the man who had contributed so much to each of their lives as Coach and Director of Rowing at UCI; role model as an athlete, Olympic Gold medalist, leader, scholar, and entrepreneur; and his extraordinarily generous material support to the UCI program during almost four decades of service.
Those rowers were expressing their own gratitude and mirroring that of the full complement of 1,500+ UCI student-rowers who had pulled for the Irvine crews. They were from all 36 years of the Men's Crews and 13 years of the Women's Crews; spanned four decades of ages; ranged in education across the full breadth of university disciplines of science to fine arts to engineering to business; represented all facets of professions, careers and public service; and had traveled to UCI that day from all across the United States. All were linked as crewmates by their shared rowing experiences in the programs created and lead by the man for whom they were now standing.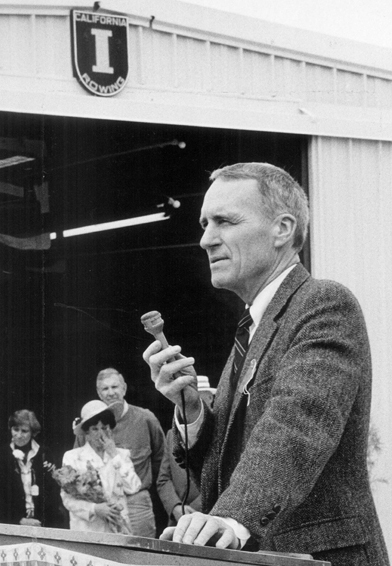 Duvall was "present at creation" of the UCI campus in 1965 when, as a young man of 34, he made a personal appeal to Dan Aldrich, the first Chancellor of UCI, for rowing to be among the five founding sports. "Chancellor Dan" approved Duvall's proposal and agreed to provide matching funds, up to a point. This act of cooperation started the two men on a path of close friendship sustained over the coming decades.
Duvall did all the "heavy lifting" for the program in those beginning years to acquire the property on Shellmaker Island for the crew base; to build the "temporary" boathouse and dock; to acquire shells, oars, and coaching launches; and to raise the money for all of it.. He also recruited the first student-rowers and served as head coach for the first four years of the program.
Under his leadership, the program was successful from the very start, with UCI recording wins against just about every West Coast university crew including the three perennial powers of UCLA, Cal, and Stanford, each then with larger enrollments and much longer rowing traditions than UCI. Those early successes have served as inspiration for all the crews that followed.
Duvall returned to the position of coach in the 1970s, 1990s, and the 2000s. In total, he has served as coach for 14 years, without financial compensation; Director of Rowing for 15 years; and head of the Rowing Alumni Association for 24 years. He has represented the Crew with his full vigor and charm to each of the seven UCI Athletic Directors, from Dr. Wayne Crawford in 1965 to Mike Izzi in 2008.
Duvall has also personally donated generously to the crews and coaches and, on occasions, "rode to the rescue" with material support for a program that was affected by strained budgets of the Athletic Departments and a still quite young alumni who often could contribute only their enthusiasm and encouragement.
You make a living by what you get. You make a life by what you give.

– Winston Churchill
But for the initiative, inspiration, leadership, and money from Duvall Hecht, the UCI Rowing program likely would never have been created nor served so well the student-rowers of the past four decades. For this, we express our deepest gratitude. For all of his accomplishments and generosities to the crew and others, we recognize and honor his extraordinary and exemplary life.
Duvall graduated from Beverly Hills High School in 1948, the year before the enrollment there of Donald Bren, another who would subsequently make substantial contributions to UCI. As at UCI, Duvall (BHHS, '48) has been inducted into that school's Hall of Fame.
He attended Menlo College for one year (1948-1949) and then continued on to Stanford University where he first rowed and was a member of Stanford's crews for three years.
As a harbringer of the future, a 1951 dual meet between USC and Stanford on Lido Channel first introduced a young Hecht to the beauty and rowing opportunities of Newport Bay.
At the start of the 1951-52 collegiate season, Jim Beggs, former Stanford varsity coach (1950 & 1951) and Yale coxswain ('49) , persuaded Duvall and Jim Fifer (stroke and #7, respectively, in the Stanford varsity) to spend the year training with him to race in the 2+ trials and compete at the 1952 Olympics. Both agreed.
Throughout their senior year, Hecht and Fifer rowed each morning as the stern pair in Stanford V8+ and each afternoon in the 2+ with "Beggsie". As Duvall would later say, their row in the morning was for strength and intrasquad competition and their row in the afternoon was for technique and personal coaching.
At the end of the collegiate season, the Stanford varsity 8+ (without Hecht and Fifer) finished 4th at the 1952 IRAs in Syracuse, New York, losing to Navy, Princeton and Cornell (in that order) and defeating all other West Coast universities.
Several weeks after the IRA, Beggs, Hecht, and Fifer won the 2+ trials and later that summer competed in Helsinki, winning their heat but then losing several days later and failing to make the finals.
In the following years, Duvall and Jim Fifer stayed close, serving as jet pilots for the Marines and the Navy, respectively, both stationed in Florida.
In 1955, they resumed their Olympic path, but now in the 2-. They first trained in Florida and then relocated to Philadelphia to be coached by their former coxswain Jim Beggs who was now freshman coach at the University of Pennsylvania.
In late June 1956 on Lake Onondaga, NY, the two again won the Olympic trials in their event. They defeated by 6 boat lengths the favored 2- of Logg and Price from Rutgers University who had also been on the 1952 Olympic team and had won the Gold Medal in Helsinki. Defeating the reigning Olympic gold medal 2- was a good start on their approach to the 1956 Olympic games in Melbourne.
After the trials, Hecht and Fifer relocated to Seattle, Washington with fellow Stanford rowers Conn Findlay, Art "Dan" Ayrault and Kurt Sieffert (cox) who had won the 2+ trials. There they would train intensively on Lake Washington for 4 months under legendary coach and racing shell maker Stan Pocock, leading up to the November 1956 games in Melbourne.
In Melbourne, Hecht and Fifer dominated their event. They had the fastest winning time in the heats by 11 seconds. And, in the finals, they won the gold by defeating the 3-time European Champion 2- from the Soviet Union by 8 seconds.
Their 2+ training partners from Lake Washington also won Gold, and these two boats became the first Olympic medalists in the 50+ year history of Stanford Crew.
In the years immediately after Melbourne, Duvall completed his service in the Marines; was a commercial pilot for Pan American Airlines; completed a masters degree in journalism at Stanford ('60); taught at Menlo College, then a 2-year men's college; and started a rowing crew at Menlo, sharing space in the Stanford boathouse. In 1960, Hecht's Menlo College crew, composed of 7 novice rowers and one sophomore with a year experience, traveled to Philadelphia and placed 2nd in the V8+.
In 1961, Duvall got a job offer from the Dean Witter stock brokerage firm in Los Angles and moved with his family to Southern California to their new home in Newport Beach. For the next 9 nine years, he had a very successful practice at the firm. But the experience of the long computer between home and office, prophetically, challenged him to fill his time while driving and would generate one of his future entrepreneurial efforts.
In late 1964, Duvall found himself sitting next to UCI Chancellor Dan Aldrich on a commuter PSA airline flight from San Francisco to Los Angeles. Duvall and Chancellor Dan had previously met socially, arranged by a Stanford acquaintance of Duvall's. But, before this short plane ride, they had never discussed UCI or intercollegiate rowing.
At that time, the Aldrich and the new UCI administration were striving to complete the buildings of the newest UC campus in time for the first students in the Fall of 1965.
During this flight, Duvall described the benefits of an intercollegiate rowing crew and outlined how such a program could be started. The Chancellor was sufficiently impressed with the 34-year-old Hecht that he committed to provide matching funds (up to $25,000) for the program if Duvall provided his proposal in writing.
Duvall, now a man who would always seize an opportunity, did so promptly. The chance meeting on the plane occurred on a Friday, and Duvall was at the UCI administration offices the following Monday with his proposal.